Obama's call to end female genital mutilation yet to reach Ethiopia's villages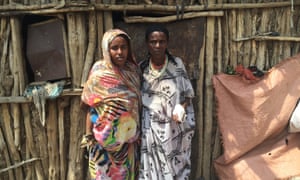 The Guardian. While some Ethiopians praise the US president's speech in Addis Ababa, other activists are concerned his message did not reach the people who needed to hear it the most in remote, traditional villages where circumcision continues.
When she was a girl, Sadiya Aliye's genitals were cut, as she was told tradition dictated. So when she became a mother to four daughters, she put all of them through the same agonising ritual.
But attitudes, and law enforcement, are changing in Ethiopia. Aliye was arrested all four times, spent two months in jail and paid $50 fines. "I was very angry," she recalls. "They beat me." Her husband, the midwife and those who held down the girls were also punished. Explaining through an interpreter why she subjected her daughters to FGM, Aliye, who gave her age as about 50, said of the Muslim community: "They said it was 'haram' [forbidden by religion] for a woman to be uncircumcised and would spoil her prayer. This is what they told us and this is why we did it."
Told that Obama had condemned the practice, Aliye replied carefully: "He speaks well. I think he will change minds." Aliye's daughter, 18-year-old Leila Kedir, believes that her mother still endorses the practice, but few here now dare say so publicly for fear of prosecution. Kedir, who was nine when she underwent FGM, blames it for the pain she suffered giving birth to her son Tewekel, now three, and two-year-old daughter Kalid. She said: "It should be stopped because it causes fights between husbands and wives and is destructive to marriage. It's good that Obama condemned it." Read more
---
---