Message from the President
Welcome
CREW is a non-profit, non-government, peace and human rights organization with 501(c)(3) status dedicated to promoting the rights of Ethiopian women worldwide through education and advocacy. Since its establishment on March 25, 2012, CREW has addressed a number of critical issues that pertain to the rights of Ethiopian women worldwide. Soon after it was created, the organization focused on the plight of Ethiopian women domestic workers in the Middle Eastern countries. Accordingly, it has launched a campaign to create awareness about the slavery-like situations in which the Ethiopian domestic workers live and to challenge the international community to address their situations. Other critical issues related to the rights of Ethiopian women worldwide are also being addressed. Read more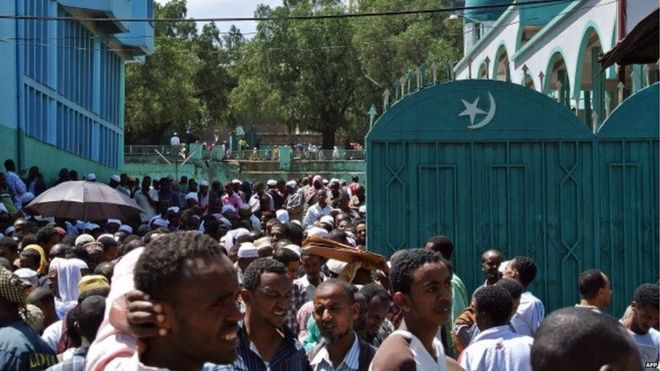 BBC. A court in Ethiopia has sentenced 18 Muslims, including clerics and a journalist, to up to 22 years in prison under controversial anti-terrorism legislation. The 18 were convicted last month on charges including terrorism and conspiracy to create an Islamic state. They were arrested three years ago over protests against alleged government interference in religious affairs.
Ethiopia's government has often been accused of stifling dissent. It denies the allegation.
Some rights groups criticised US President Barack Obama for visiting the country last month, warning that it could lend credibility to a government accused of jailing journalists and critics. Mr Obama called on the government to improve it record on human rights, while praising it as an "outstanding partner" in the fight against militant Islamists in neighbouring Somalia. Read more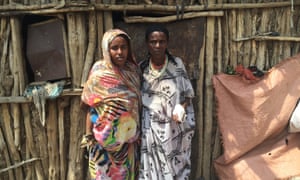 The Guardian. While some Ethiopians praise the US president's speech in Addis Ababa, other activists are concerned his message did not reach the people who needed to hear it the most in remote, traditional villages where circumcision continues.
When she was a girl, Sadiya Aliye's genitals were cut, as she was told tradition dictated. So when she became a mother to four daughters, she put all of them through the same agonising ritual.
But attitudes, and law enforcement, are changing in Ethiopia. Aliye was arrested all four times, spent two months in jail and paid $50 fines. "I was very angry," she recalls. "They beat me." Her husband, the midwife and those who held down the girls were also punished. Explaining through an interpreter why she subjected her daughters to FGM, Aliye, who gave her age as about 50, said of the Muslim community: "They said it was 'haram' [forbidden by religion] for a woman to be uncircumcised and would spoil her prayer. This is what they told us and this is why we did it."
Told that Obama had condemned the practice, Aliye replied carefully: "He speaks well. I think he will change minds." Aliye's daughter, 18-year-old Leila Kedir, believes that her mother still endorses the practice, but few here now dare say so publicly for fear of prosecution. Kedir, who was nine when she underwent FGM, blames it for the pain she suffered giving birth to her son Tewekel, now three, and two-year-old daughter Kalid. She said: "It should be stopped because it causes fights between husbands and wives and is destructive to marriage. It's good that Obama condemned it." Read more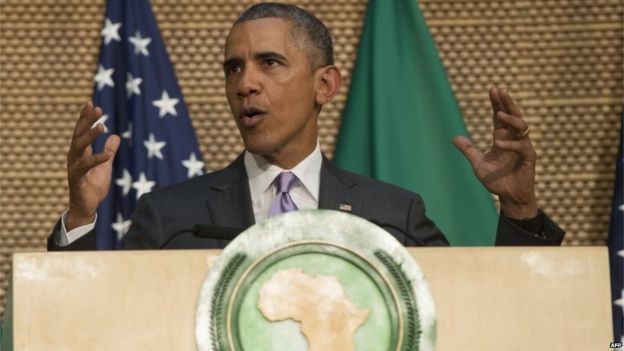 BBC: US President Barack Obama has ended his visit to Africa by warning the continent will not advance if its leaders refuse to step down when their terms end.
"Nobody should be president for life," Mr Obama said.
He was speaking at the African Union's headquarters in Ethiopia's capital, Addis Ababa, the first time a sitting US president has addressed the body.
"I don't understand why people want to stay so long, especially when they have got a lot of money," he told the 54-member AU, an apparent criticism of African leaders who have done just that.  "Sometimes you will hear leaders say 'I'm the only person who can hold this nation together.' If that's true, then that leader has failed to truly build their nation."
He said democracy was about more than just holding elections: "When journalists are put behind bars for doing their jobs or activists are threatened as governments crackdown on civil society then you may have democracy in name, but not in substance."
And he joked about his own chances of another term in office, which he is constitutionally barred from seeking. "I actually think I'm a pretty good president,'' he said. "I think if I ran, I could win. But I can't!" Read more
Aryn Baker, Time
On the morning of July 27, Ethiopian Prime Minister Hailemariam Desalegn welcomed Obama into Addis Ababa's National Palace with the pomp and glory of an ancient empire that, unlike much of Africa, was not colonized by a European power until 1936. A large brass band, decked out in the red and green of the Ethiopian flag, played The Star-Spangled Banner and the Ethiopian national anthem as Obama and Desalegn stood at attention. Stone lions stood atop the palace portico; real ones roamed the palace's back garden, reminders of Ethiopia's former emperor, Haile Selassie, who took the lion as his symbol. (Obama later visited the palace lions, and joked, in a press conference, that he was "considering getting some for the White House.") As cannons fired off a 21-gun salute, Obama inspected troops from the Ethiopian national guard in a bit of state visit formality that appeared to bore him. Then he and Desalegn entered the palace for several hours of closed-door discussions on regional security, economic development and human rights.
For many Westerners, Ethiopia still conjures up images of starvation and desperate poverty, a product of a horrific famine during the 1980s. But today Ethiopia is the second most populous state in Africa, with some 90 million people, and it has become a regional military and economic powerhouse, averaging ten percent growth over the past decade.
But that success on the African stage has come at a cost to civil liberties and democratic ideals. Described by the Committee to Protect Journalists as the second largest African jailer of journalists, after Eritrea, the government has detained at least nine reporters and bloggers critical of the ruling party; five were released in the weeks leading up to Obama's visit. Prime Minister Desalegn justified the detentions in a press conference after the talks by insinuating that the journalists were unethical and aligned with terrorist groups. Both Amnesty International and Human Rights Watch have lambasted the Ethiopian government for its abysmal record on human rights, noting that members of the political opposition are regularly accused and detained on charges of terrorism. Obama, in the same press conference, said that U.S. intelligence had seen no indication that the opposition groups of most concern to the government posed a terrorist threat. "If they tip into activities that are violent and are undermining a constitutional government, then we have a concern," he said. A vocal opposition, he added, should be seen not as a threat, but as an essential part of any functioning democracy. Read more